Introduction
Transportation authorities in France planned to implement an environmental tax for all HGVs (heavy goods vehicles) when traveling across a network of national highways totaling over 1500 kilometers in length. The HGV tax for each vehicle will be determined with an onboard GPS device and toll enforcement will be performed by a system of sensors and cameras to capture license plates of HGVs not in compliance with the new tax program. The system will be used to count traffic and can even identify vehicle types with contour mapping. Upon detection of a violation, the system will send the license plate image back to the control room to be processed for payment collection.
System Requirements
Gigabit fiber network backbone to transmit large volumes of data back to the main control center
Wide-temperature tolerance for outdoor operation
Rugged and compact design for installation in roadside cabinets
Moxa Solution
Multiple modularized cabinets are installed atop over 150 gantries throughout the national highway system. In each cabinet, a camera and a vehicle detection device are connected to an EDS-G509-T (or EDS-510A-3GT-T) industrial Ethernet switch. These switches feature high-performance Gigabit capacity to transmit large volumes of images and transaction data to control centers. They are also configured with IGMP snooping to optimize bandwidth usage and reduce network congestion. The EDS-G509-T is also equipped with 5 fiber ports to provide long-distance transmission for ITS network.
Inside the roadside cabinet, the ioLogik E1212-T Ethernet remote I/O connects to humidity/temperature sensors and intrusion detection for cabinet environmental monitoring to enhance equipment safety and reliability. Also, its compact size allows the ioLogik E1212-T to fit easily into space-limited roadside cabinets.
In addition, all Moxa's models feature -40 to 75oC wide temperature tolerance to perform reliably without air conditioning in severe highway operating conditions.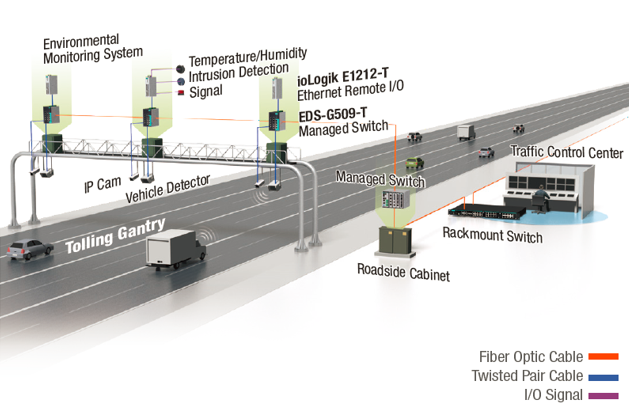 Why Moxa
The EDS-510A-3GT-T & EDS-G509-T provide Gigabit Ethernet ports to support massive video and data transmissions
The EDS-G509-T supports fiber interface for long-distance transmission
Future proof IPv6 ready
All Moxa products are available in wide-temperature (-40 to 75°C) models and feature long MTBF for high reliability